News and Notices
Alternative Technology for Treatment Plant Upgrade
The Clairton Municipal Authority is in the process of setting up a pilot plant to prove the effectiveness of an alternative technology for the treatment plant upgrade.  If this technology works, it will be a substantial savings over more conventional treatment options.  The pilot plant will operate for six months, and should be fully operational in October.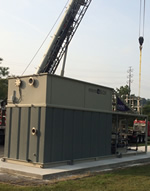 Grants
The Authroity has received  a CITF Grant that will go towards rehabilitating up to 18 different sections of pipe that have Level 5 structural defects.
The Authority has applied for other grants such as the CDBG Grant.

Project Notice
#1 - Treatment Plant Upgrade to resolve overflows at the pump station.  For more details, visit Projects
#2 - Photos of the new garage and trail relocation project underway.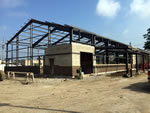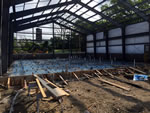 [Click on photo to enlarge]
---
Rate Increase Notice
(August 2, 2013)
Visit News Archives
Our Facilities
The Clairton Waste Water Treatment Plant is located along North State Street in Clairton and discharges to Peters Creek.  The plant is owned by the Clairton Municipal Authority and operates under NPDES Permit No. PA0026824.  The existing WWTP process consists of preliminary screening, grit removal, comminutor, preaeration, primary settling, activated sludge, final clarifiers, and chlorine disinfection.  The solids handling system consists of thickening, aerobic digestion, centrifuge dewatering, and ultimate disposal of the sludge at a landfill.
The upstream communities' conveyance systems are owned and operated by each independent community.  The upstream communities consist of the Borough of Jefferson Hills, the Township of South Park and the Peters Creek Sanitary Authority.  The Peters Creek Sanitary Authority service area consists of customers located within the Borough of Finleyville, Nottingham, Peters, and Union Township. All flows from the upstream communities are classified as strictly sanitary.
Our History
The original facility was placed into operation on December 9, 1963, as a primary treatment plant capable of treating 2.0 MGD.  In compliance with the Environmental Protection Agency's requirements, the plant was subsequently upgraded to an activated sludge process capable of treating 6.0 MGD in order to serve the City of Clairton, the borough of Jefferson Hills, the Township of South Park, and the Peters Creek Sanitary Authority.  The expanded plant was placed into operation on November 28, 1978.
Until recently, the City of Clairton owned and operated the collection and conveyance system and pump stations installed throughout the City.  The Clairton Municipal Authority (CMA), who only owned the outfall structures located within the City of Clairton and the WWTP, recently took over the ownership and operation of the collection and conveyance system and pump stations in the City of Clairton.  The CMA's conveyance system is classified with sections as a Combined Sewer Overflow (CSO) and sections of sanitary sewer (SSS). 
Contact Us
1 North State Street
Clairton, PA 15025
Billing Dept 412-233-3180
Office 412-233-3246
Email: info@clairtonmunicipalauthority.org
Pay Online!
For customers who wish to pay online, visit our secure payment portal at
https://clairton.authoritypay.com
Credit Cards Accepted:
Visa, MasterCard, Discover